Lunar Eclipse (12/21)
There was a Lunar eclipse during the overnight hours of December 20-21, 2010 (late night / early morning). In south Florida, the eclipse lasted from roughly 2:30 AM through 3:30 AM EST. Clear and cool conditions made for perfect viewing of the event, where the Earth's shadow is cast on the sun-lit face of the Moon (the opposite of a solar eclipse, where the Moon's shadow is cast on the earth).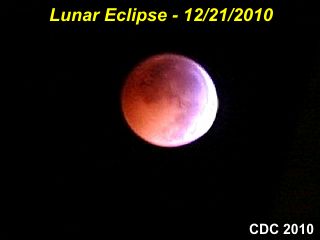 Click the link below to see a short video of the event (links to YouTube videos) that has been posted. The video is about 3 minutes.
www.sky-chaser.com/lunevid1.htm