Chicago Job And Polar Vortex (1/6)
Early January 2014 was a brutally cold period from the upper Midwest to the NE USA - Especially around the first week of January 2014. Once again, similar to 2008, I am working on a computer contract in the windy city of Chicago, and had the excitement of driving right into the worst of the weather on January 5 between Indianapolis and Chicago! A few days after was followed by some of the coldest temperatures in 20+ years, approaching -20 below in Chicago. A blizzard (with winds gusting to 50 MPH and nearly 2 feet of snow) also preceded this vicious cold wave. I barely made the trip from Indy to Chicago as I-65 was shut down for 2 days after I barely made my way through (middle picture below was a common sight).

To the right, ice clouds - resembling cirrus clouds, are near the ground, causing sundogs and other optical effects. To the left, the true presentation of the term "Polar Vortex" (used by many media firms), can be seen at the 250 MB flow. This is no more than a highly amplified trough, extending southward from the polar vortex (wind flow around each pole on the earth).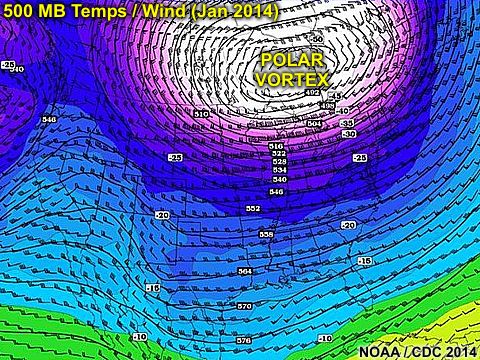 The larger picture above shows the more prominent upper-level low (with temperatures nearing -60 C in its core near Hudson Bay) at the 500 MB level! This allows very cold air to surge unusually far south.
Interested in winter weather? Please visit my section for it at the link below.
http://www.sky-chaser.com/winter.htm